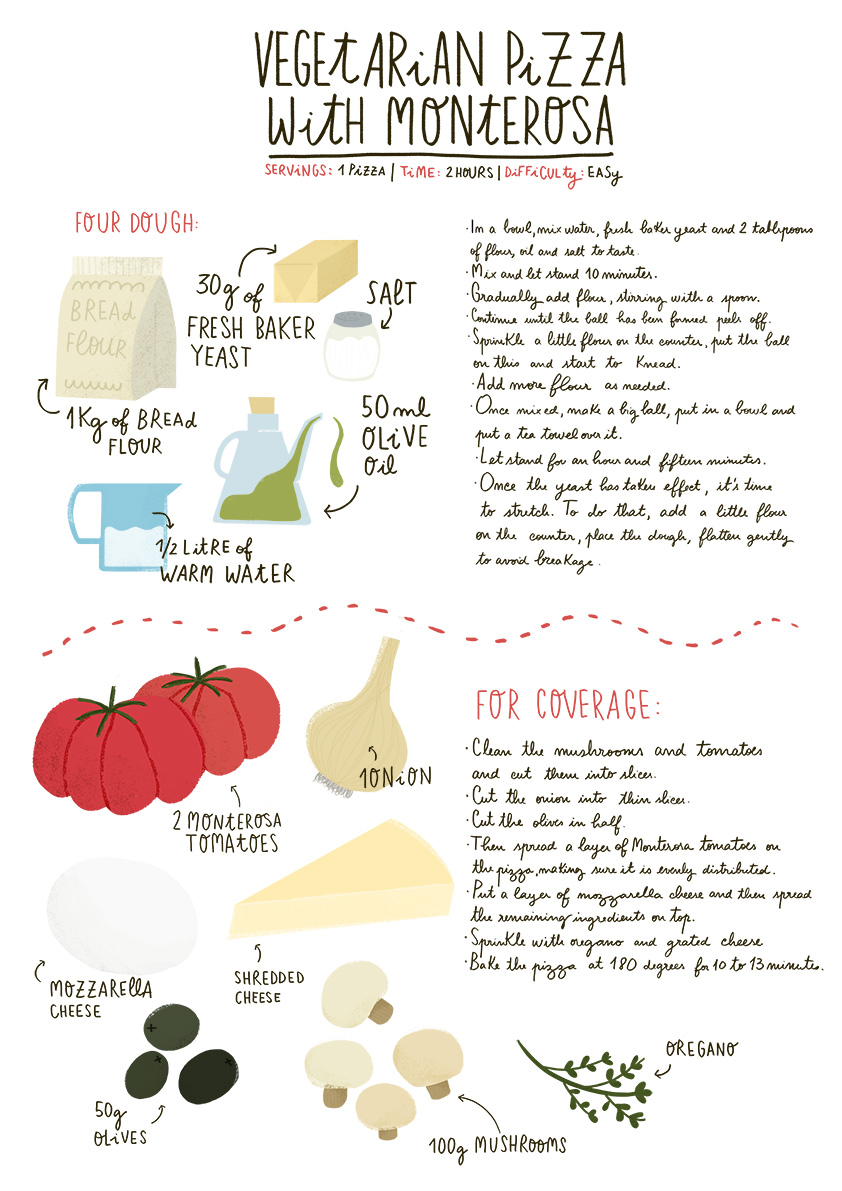 Who doesn't like pizza? It might be one of the simplest recipes around: you only need flour, yeast, salt and water to prepare its unmistakable dough.
Another thing is the toppings… this is where your imagination, tradition and innovation come into play, where there are no limits, even for the most daring combinations of flavours that could raise a few eyebrows.
However, we want to show you a recipe that will delight all your guests. It's a classic vegetarian pizza, but with that special and unique touch that only tomatoes as tasty as the Monterosa can provide.
Don't be fooled by the apparent simplicity of this recipe: the combination of its ingredients is magical and will make your vegetarian pizza irresistible.
Follow the steps below to make a dough worthy of an actual pizzeria and you'll see how, thanks to the Monterosa tomatoes, your pizza will taste absolutely glorious.
Servings: 1 pizza
Time: 2 hours
Difficulty: Easy
Ingredients for dough:
1 kg of bread flour
½ litre of warm water
30 g of fresh baker yeast
50 ml of olive oil
Salt
Preparation Method
In a bowl, mix water, fresh baker yeast and 2 tablespoons of flour, oil and salt to taste.
Mix and let stand 10 minutes.
Gradually add flour, stirring with a spoon.
Continue until the ball has been formed peels off.
Sprinkle a little flour on the counter, put the ball on this and start to knead.
Add more flour as needed.
Once mixed, make a big ball, put it in a bowl and put tea towel over it.
Let stand for an hour and fifteen minutes.
Once the yeast has taken effect, it's time to stretch. To do that, add a little flour on the counter, place the dough and flatten gently to avoid breakage.
Ingredients for coverage:
1 onion
2 Monterosa tomatoes
100 g mushrooms
50 g olives
Mozarella cheese
Shredded cheese
Oregano
Preparation Method
Clean the mushrooms and tomatoes and cut them into slices.
Cut the onion into thin slices.
Cut the olives in half.
Then spread a layer of Monterosa tomatos on the pizza, making sure it is evenly distributed.
Put a layer of mozzarella cheese and then spread the remaining ingredients on top.
Sprinkle with oregano and grated cheese.
Bake the pizza at 180 degrees for 10 to 13 minutes.