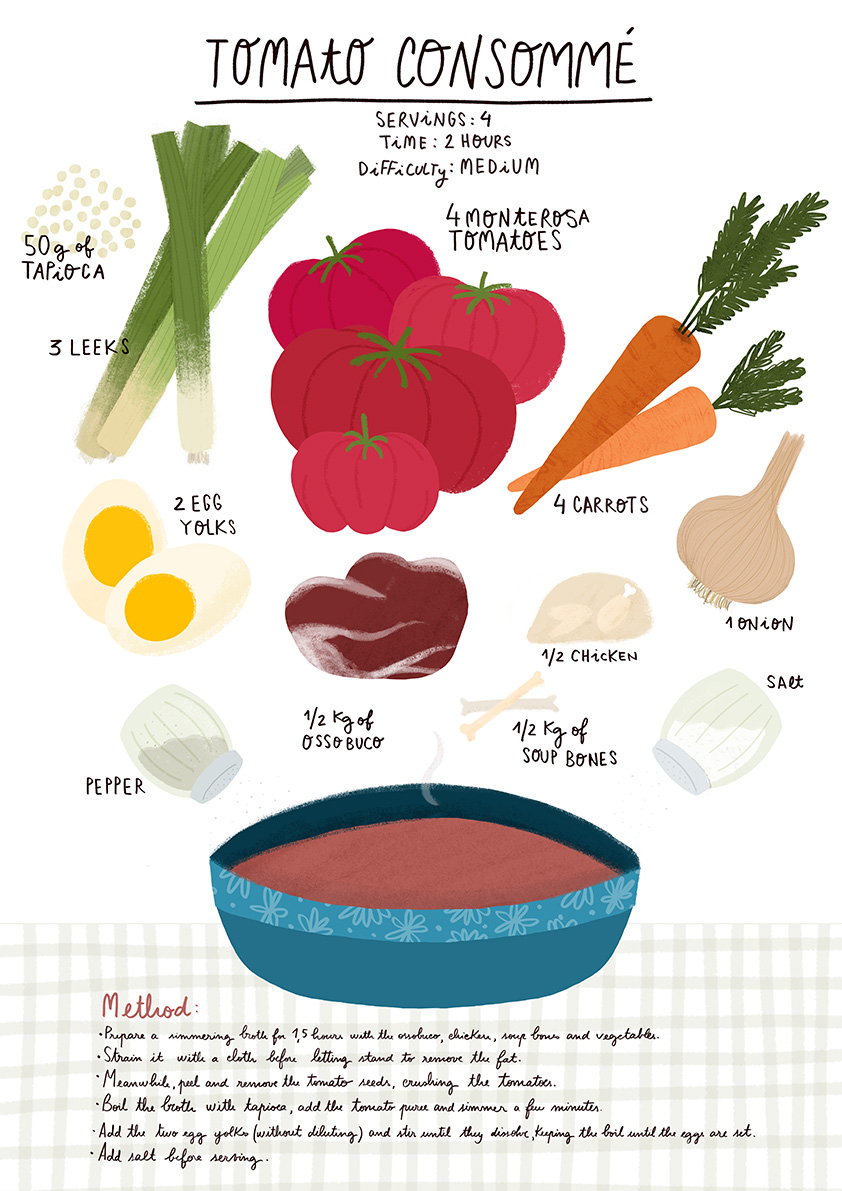 The recipe shown below is very versatile, since it can be prepared as a starter or as a base or ingredient in the preparation of more elaborate dishes.
Tomato soup (also known as tomato consommé or broth) is made by slow cooking its ingredients (about an hour and a half to two hours), which guarantees the perfect fusion of flavours and aromas and which, despite its apparent simplicity, requires a certain skill on the part of the cook to achieve the desired result.
In the version that we propose below, the tomato consommé is made using vegetables (onions, carrots, leeks), meat (chicken, shank), eggs, tapioca and, of course, the undisputable star: the Monterosa tomato.
One last tip on how to store tomato soup, in case you have some left over (although we doubt it…): you can store your tomato consommé in the fridge for up to 3 days, preferably in an airtight container.
Servings: 4
Time: 2 hours
Difficulty: Medium
Ingredients:
½ kg of soup bones
1 onion
½ kg ossobuco
½ Chicken
4 carrots
3 leeks
50 g tapioca
Pepper
4 ripe Monterosa tomatoes
2 egg yolks
Salt
Preparation Method
Prepare a simmering broth for 1,5 hours with the ossobuco, chicken, soup bones and vegetables.
Strain it with a cloth before letting stand to remove the fat.
Meanwhile, peel and remove the tomato seeds, crushing the tomatoes.
Boil the broth with tapioca, add the tomato puree and simmer a few minutes.
Add the two egg yolks (without diluting) and stir until they dissolve, keeping the boil until the eggs are set.
Add salt before serving.