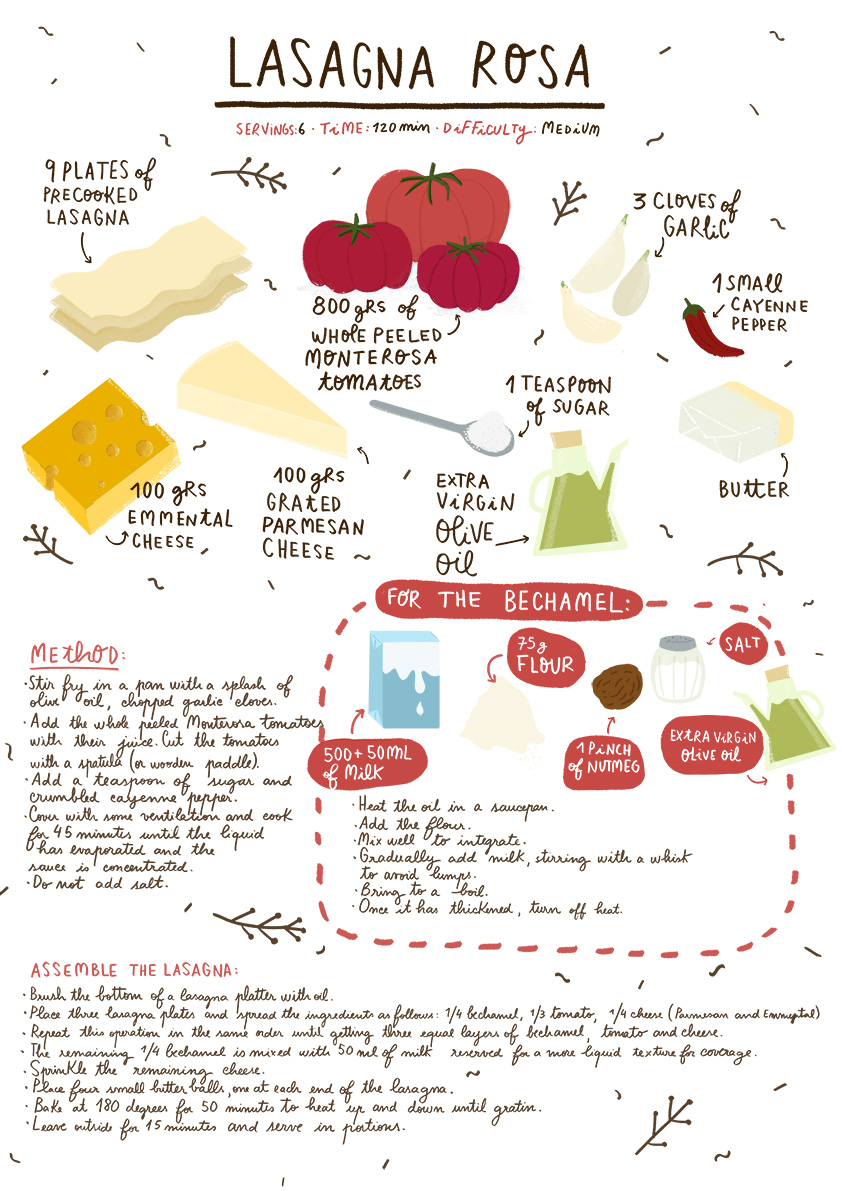 Lasagna is such a well-known dish today that it has become a true symbol of Italian cuisine. It is such a rich and well-prepared dish that it captivates everyone who tries it.
Although its most classic version is prepared with stuffed meat and béchamel, there are also numerous and delicious variations, for example vegetable or fish lasagna, or the version that we present below: Pink Lasagna with Monterosa tomatoes.
To prepare a good lasagna, it's of course essential that you choose good ingredients. In this recipe, the tomato sauce used as a base will be the star of the dish, so choosing Monterosa tomatoes for the sauce is a sure-fire recipe for success.
No less important is choosing good lasagna sheets, which need to properly support the topping so that the lasagna can maintain an ideal consistency.
Follow the instructions below and prepare your Pink Lasagna, a delicious variation on the traditional Italian recipe.
Servings: 6
Time: 120 minutes
Difficulty: Medium
Ingredients:
9 plates precooked lasagna
800 grams of whole peeled Monterosa tomatoes
3 cloves of garlic
1 small cayenne pepper
1 teaspoon sugar
100 g grated Parmesan cheese
100 g Emmental cheese
Butter
Extra Virgin Olive Oil
For the bechamel:
500+50 ml of milk
75 g flour
1 pinch of nutmeg
Salt
Extra Virgin Olive Oil
Preparation Method
Stir fry in a pan with a splash of olive oil, chopped garlic cloves.
Add the whole peeled Monterosa tomatoes with their juice.
Cut the tomatoes with a spatula (or wooden paddle).
Add a teaspoon of sugar and crumbled cayenne pepper.
Cover with some ventilation and cook for 45 minutes until the liquid has evaporated and the sauce is concentrated.
Do not add salt.
Method for the bechamel:
Heat the oil in a saucepan.
Add the flour.
Mix well to integrate.
Gradually add milk, stirring with a whisk to avoid lumps.
Bring to a boil.
Once it has thickened, turn off heat.
Assemble the Lasagna:
Brush the bottom of a lasagna platter with oil.
Place three lasagne platess and spread the ingredients as follows:
¼ bechamel
1/3 Tomato
¼ cheese (Parmesan and Emmental)
Repeat this operation in the same order until getting three equal layers of bechamel, tomato and cheese.
The remaining ¼ bechamel is mixed with 50 ml of milk reserved for a more liquid texture for coverage.
Sprinkle the remaining cheese.
Place four small butter balls, one at each end of the lasagna.
Bake at 180 degrees for 50 minutes to heat up and down until gratin.
Leave outside for 15 minutes and serve in portions.