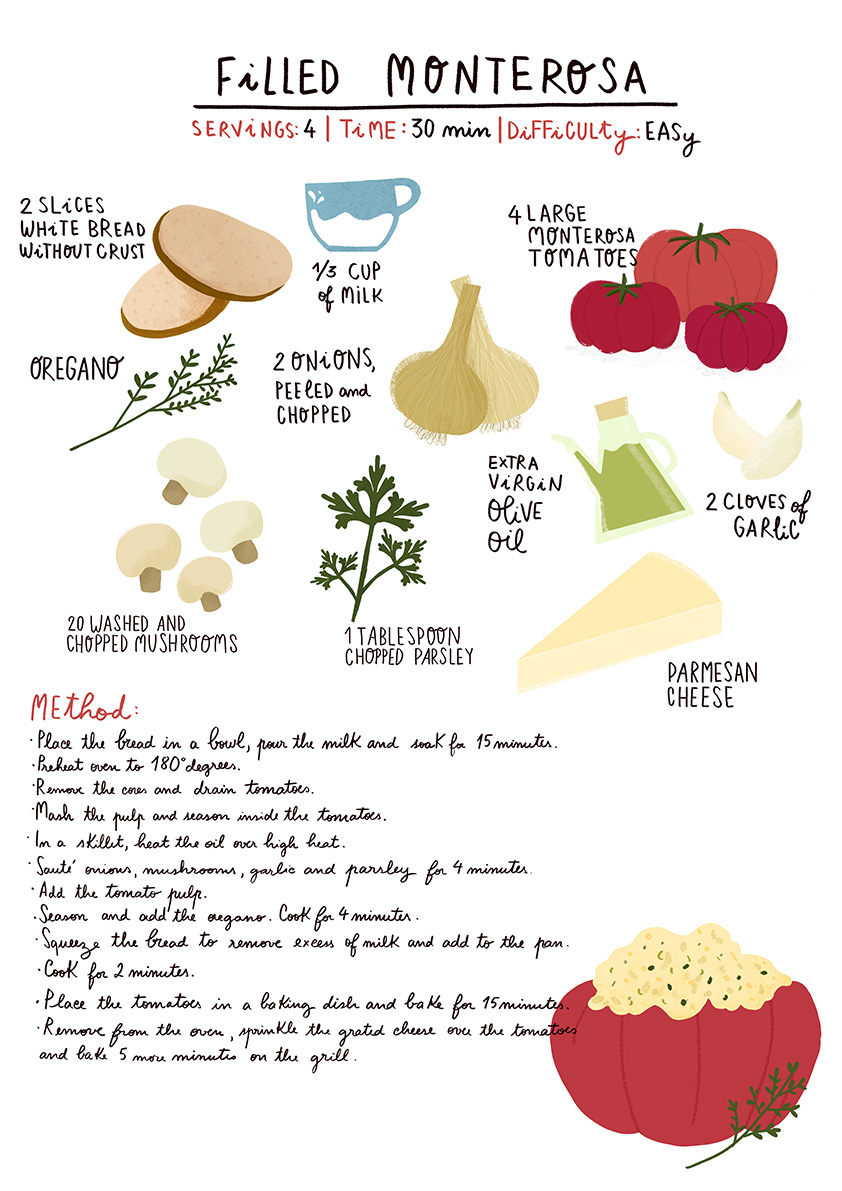 Stuffed vegetables are without doubt one of the star dishes of the summer thanks to their unique and spiced flavour, their ease of preparation and because they can be done in many different ways.
Stuffed aubergines, courgettes, peppers… almost any vegetable lends itself to this type of recipe including, of course, the tomato.
The traditional recipe involves the use of breadcrumbs or wet bread for the stuffing, with garlic and oregano, but actually lots of different ingredients can be used, depending on the taste of whoever is preparing the dish.
For example, vegetables in this dish are often stuffed with meat, rice, or even certain types of fish such as tuna. In this version of Stuffed Monterosas, we propose a recipe in which the stuffing for our tomatoes is made with onions, garlic, mushrooms, Parmesan cheese, oregano and parsley.
For this recipe we recommend you use large Monterosa tomatoes which, by following the easy instructions below, will turn into delicious baked stuffed tomatoes.
Servings: 4
Time: 30 minutes
Difficulty: Easy
Ingredients:
2 slices white bread without crust
1/3 cup milk
4 large Monterosa tomatoes
Extra virgin olive oil
2 onions, peeled and chopped
2 cloves of garlic, minced
20 washed and chopped mushrooms
1 tablespoon chopped parsley
Oregano
Parmesan cheese
Preparation Method
Place the bread in a bowl, pour the milk and soak for 15 minutes.
Preheat oven to 180 degrees C.
Remove the cores and drain tomatoes.
Mash the pulp and season inside the tomatoes.
In a skillet, heat the oil over high heat.
Sauté onions, mushrooms, garlic and parsley for 4 minutes.
Add the tomato pulp.
Season and add the oregano. Cook for 4 minutes.
Squeeze the bread to remove excess of milk and add to the pan. Cook for 2 minutes.
Place the tomatoes in a baking dish and bake for 15 minutes.
Remove from the oven, sprinkle the grated cheese over the tomatoes and bake 5 more minutes on the grill.