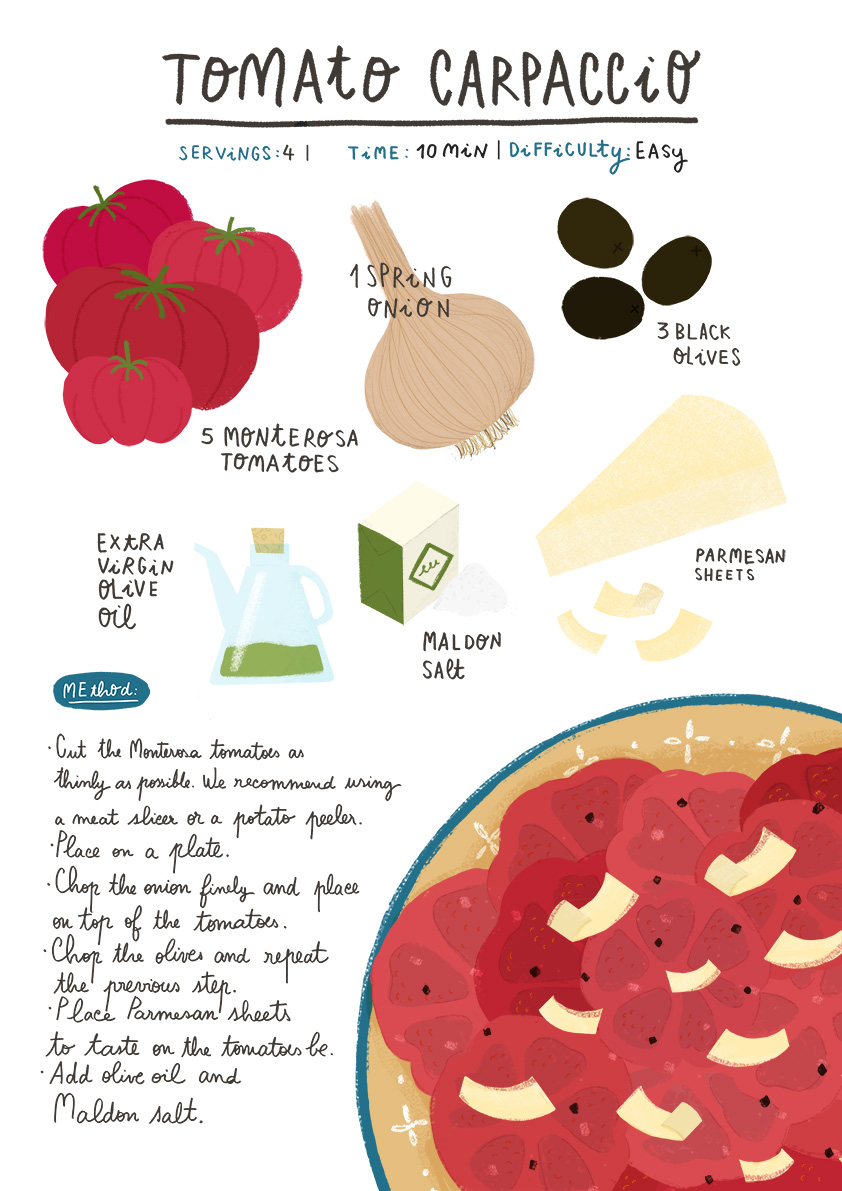 Looking for a recipe that is light yet tasty? The Monterosa tomato carpaccio with slices of Parmesan cheese recipe is just that, as well as being easy and quick to prepare.
This tomato-based side dish can be an excellent garnish or it can be served as a starter for those who want a light and delicious dish.
To prepare it, we of course recommend using Monterosa tomatoes, which with their unique texture and herbaceous aroma perfectly pair with the strong flavour of Parmesan cheese, the bitterness of black olives and the spicy touch of onion.
We recommend that you prepare your carpaccio just before serving it, to prevent the tomatoes from releasing too much water on the plate, adding a splash of oil and a pinch of salt to your liking to top it off.
It is almost impossible to find another dish that is so simple, fast and delicious. In just 10 minutes you'll have prepared a delicious tasty and light starter, very low in calories and containing healthy ingredients such as the Monterosa tomato and olive oil.
Servings: 4
Time: 10 minutes
Difficulty: Easy
Ingredients:
5 Monterosa tomatoes
1 spring onion
3 black olives
Parmesan sheets
Extra virgin olive oil
Maldon salt
Preparation Method
Cut the Monterosa tomatoes as thinly as possible. We recommend using a meat slicer or a potato peeler.
Place on a plate.
Chop the onion finely and place on top of the tomatoes.
Chop the olives and repeat the previous step.
Place Parmesan sheets to taste on the tomatoes be.
Add olive oil and Maldon salt.