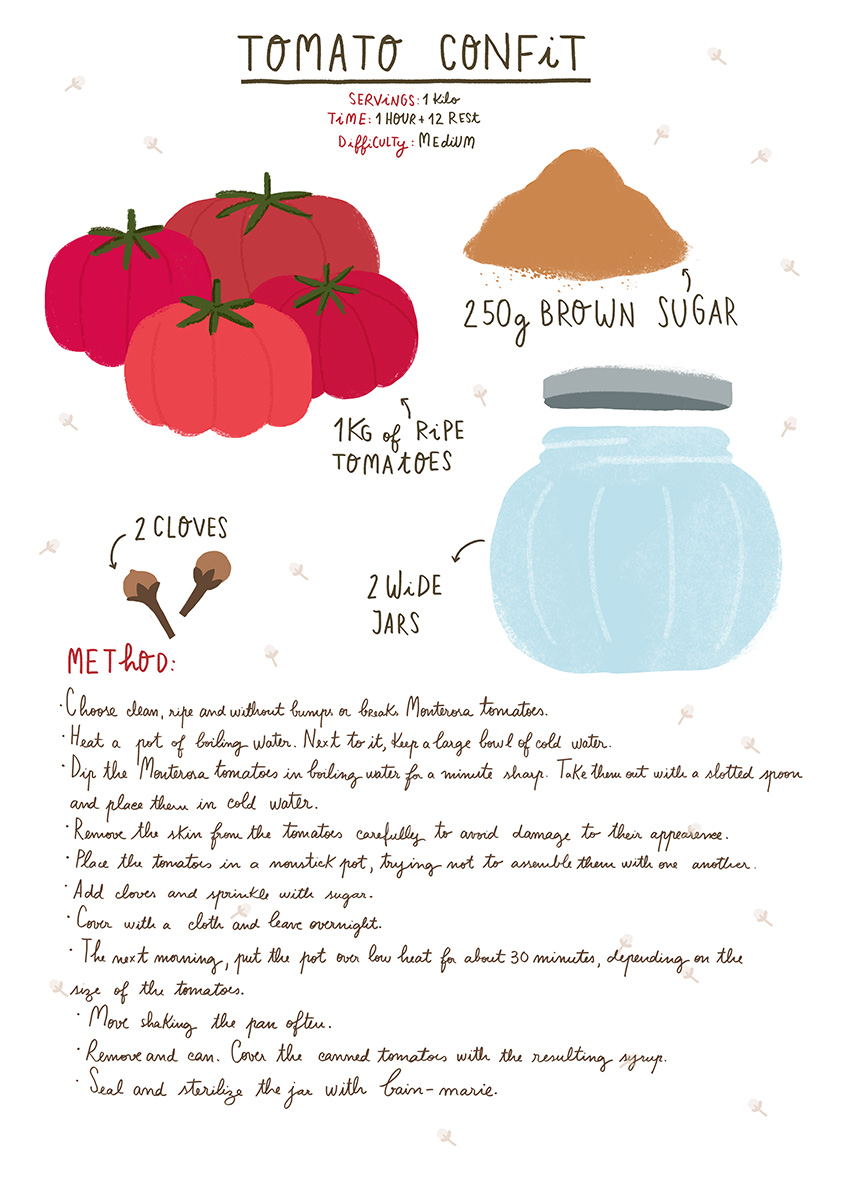 The recipe that we present below is, to put it bluntly, finger-licking good!
Monterosa tomato confit is a versatile, sweet and tasty dish, ideal for a snack when you're peckish, as an original appetizer that pairs perfectly with a glass of wine or as a garnish in another recipe.
Its flavour is very intense and sweet since the tomatoes are covered in syrup, as well as spicy, thanks to the cloves, which give it that special tangy touch.
The secret to making great tomato confit is to ensure the excess water evaporates completely, but without letting the tomatoes dry. Therefore it's important that you use good tomatoes and there is no better option for this recipe than the Monterosa.
For this dish it's best to use well-ripened tomatoes that are round and have no bruising or breaks on the skin.
Servings: 1 kilo
Time: 1 hour + 12 rest
Difficulty: Medium
Ingredients:
1 kg of ripe tomatoes
250g brown sugar
2 cloves
* Two wide jars
Preparation Method
Choose clean, ripe and without bumps or breaks Monterosa tomatoes.
Heat a pot of boiling water. Next to it, keep a large bowl with cold water.
Dip the Monterosa tomatoes in boiling water for a minute sharp. Take them out with a slotted spoon and place them in cold water.
Remove the skin from the tomatoes carefully to avoid damage to their appearance.
Place the tomatoes in a nonstick pot, trying not to assemble them with one another.
Add cloves and sprinkle with sugar.
Cover with a cloth and leave overnight.
The next morning, put the pot over low heat for about 30 minutes, depending on the size of tomatoes.
Move shaking the pan often.
Remove and can.
Cover the canned tomatoes with the resulting syrup.
Seal and sterilize the jar with bain-marie.