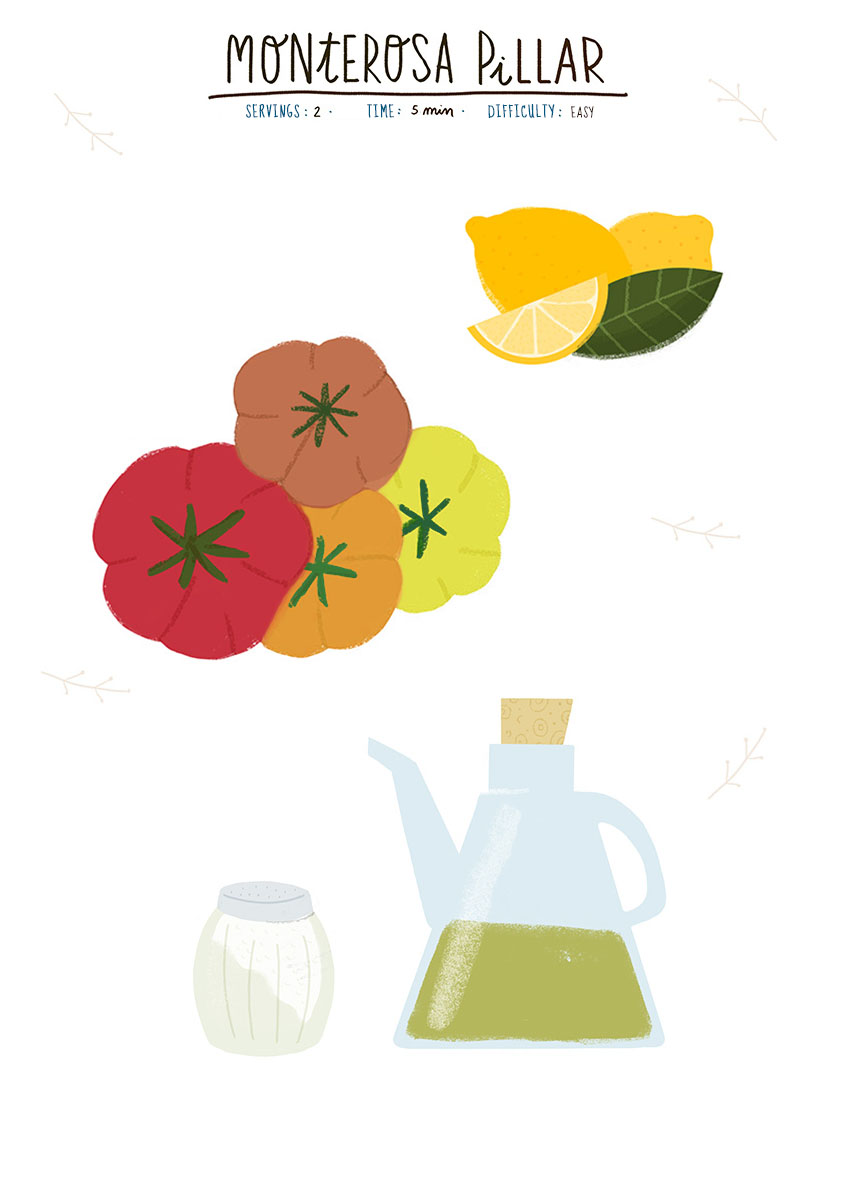 Pink, yellow, orange or chocolate… Can four different Monterosa tomatoes come together in a recipe that, in addition to being unique and very original, is also very simple and quick to prepare? Of course!
The proposal that we present below, the Monterosa Pillar, can be served as a starter or as a garnish for another more elaborate dish. Not only will its presentation leave your guests pleasantly surprised, but the combination of flavours of the four Monterosa tomato varieties will make them want seconds.
The colour, texture and flavour of the different tomatoes that make up the Monterosa Collection come together harmoniously in this dish, in which a citrus note elevates the final result, without dominating the flavour.
The juiciness of the pink tomato, with its both intense and fruity flavour; the balanced herbaceous notes and sweet flavour of the yellow tomato; the almost crisp texture and fruit aromas of the orange tomato; the soft and juicy flesh of the chocolate tomato, with its toasted notes… All these flavours come together in a surprisingly balanced way in this fresh summer recipe.
Try it now!
Servings: 2
Time: 5 minutes
Difficulty: Easy
Ingredients:
1 pink Monterosa tomato
1 yellow Monterosa tomato
1 orange Monterosa tomato
1 chocolate Monterosa tomato
Extra virgin olive oil (3 tablespoons)
Citrus juice to taste (1 tablespoon)
Grated citrus zest
Salt
Preparation
Cut the 4 coloured Monterosa tomatoes horizontally into 4 slices, with an approximate thickness of 1.5-2 cm per slice.
Add salt to the tomato slices and allow them to drain in a cool place, 15 minutes. The salt will make the tomato lose water and further enhance its flavour.
Create a pillar with a slice of each colour. For the base use the bottom slice of one of the tomatoes and a top slice for the top of the pillar. Build 4 pillars in this way. 4 new tomatoes in different colours from the new Monterosa collection (link to section).
Mix the olive oil with the citrus juice and a pinch of salt. Add the peeled grated zest.
Dress the dish with the citrus sauce.