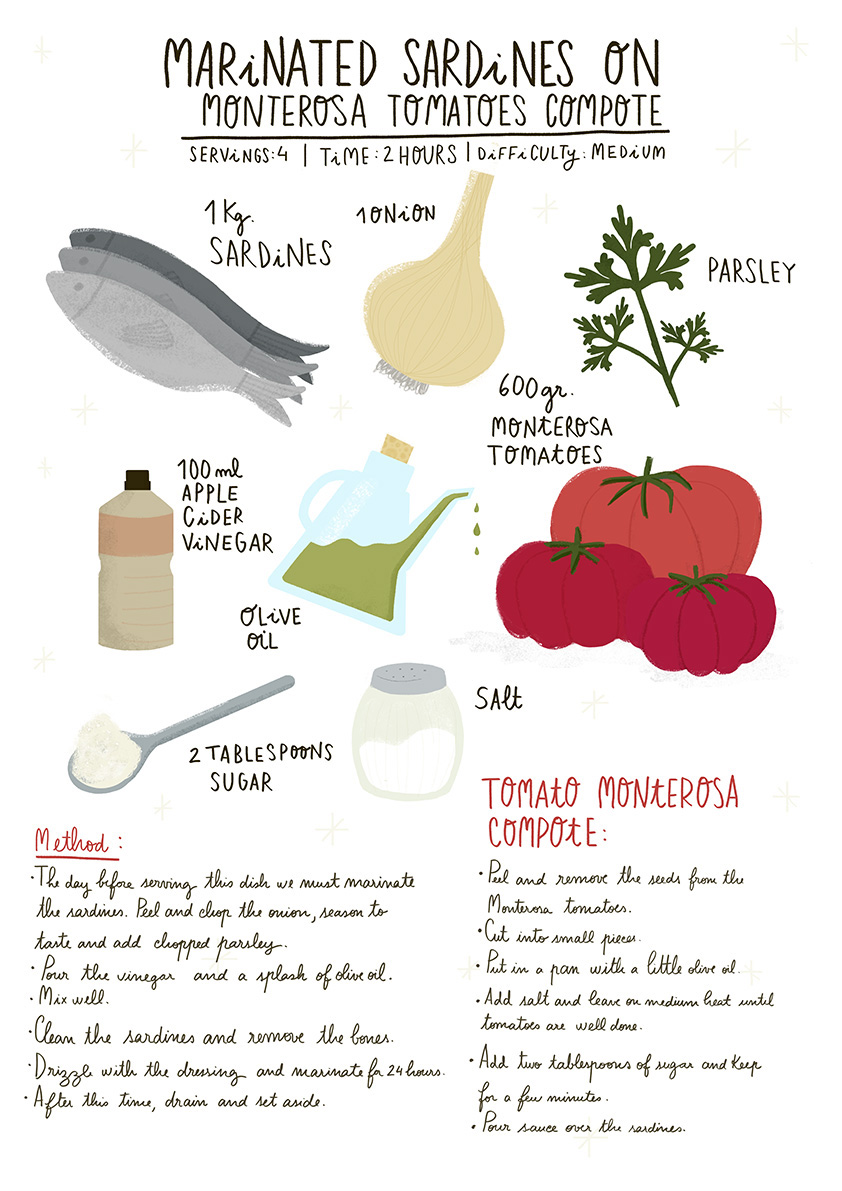 Marinated sardines are a typically traditional Mediterranean dish that are usually served as an appetizer or as tapas found commonly on restaurant menus, especially during the hot summer months.
The recipe we propose is a variation in which the sardines rest on a tasty Monterosa tomato compote, in which the intense flavour of the marinade pairs with the tenderness of the clean and boneless sardines, and the full-bodied flavour of the tomato.
If you want to surprise your guests with an elaborate and delicious dish, in which several seemingly contrasting flavours find the perfect balance, this is the recipe you're looking for.
The Marinated sardines on Monterosa tomato sauce recipe requires a little more time compared to the other recipes in this section, since the sardines need to be marinated for a whole day before they can be used in the recipe, but we assure you that it'll be worth the wait.
Servings: 4
Time: 2 hours
Difficulty: Medium
Ingredients:
1 kg. sardines
1 onion
Parsley
100 ml. apple cider vinegar
Olive oil
600 gr. Monterosa tomatoes
2 tablespoons sugar
Salt.
Preparation Method
The day before serving this dish we must marinate the sardines.
Peel and chop the onion, season to taste and add chopped parsley.
Pour the vinegar and a splash of olive oil.
Mix well.
Clean the sardines and remove the bones.
Drizzle with the dressing and marinate for 24 hours.
After this time, drain and set aside.
Monterosa tomato compote:
Peel and remove the seeds from the Monterosa tomatoes.
Cut into small pieces. Put in a pan with a little olive oil.
Add salt and leave on medium heat until tomatoes are well done.
Add two tablespoons of sugar and keep for a few more minutes.
Pour sauce over the sardines.